Cybercrime jurisdiction: issues and options 
Cybercrime is by no means the first 'new' form of crime to engage multiple jurisdictions and laws. Illicit trafficking flows in drugs, people and weapons, for example, frequently originate and end in different hemispheres, passing through many countries in between. Nonetheless, cybercrime acts can engage legal jurisdictions within the timeframe of milliseconds. Computer content, for example, can be legally stored on a computer server in one country, but downloaded through the internet in multiple countries, some of which may consider the content to be illegal (UNODC Draft Comprehensive Study on Cybercrime, 2013, p. 56).
Kamola Ibragimova, Education for Justice initiative, UNODC, is joined by Prof. Jovan Kurbalija, Founding Director of DiploFoundation and Head of the Geneva Internet Platform, to talk about the jurisdictional conflicts posed by cybercrime and digital evidence. The episode outlines various approaches that the countries use to defining when a cybercrime is committed within a country's territory. It also discusses the challenge of concurrent jurisdictions and explores the implications of a direct law enforcement access to extra-territorial data for data protection requirements.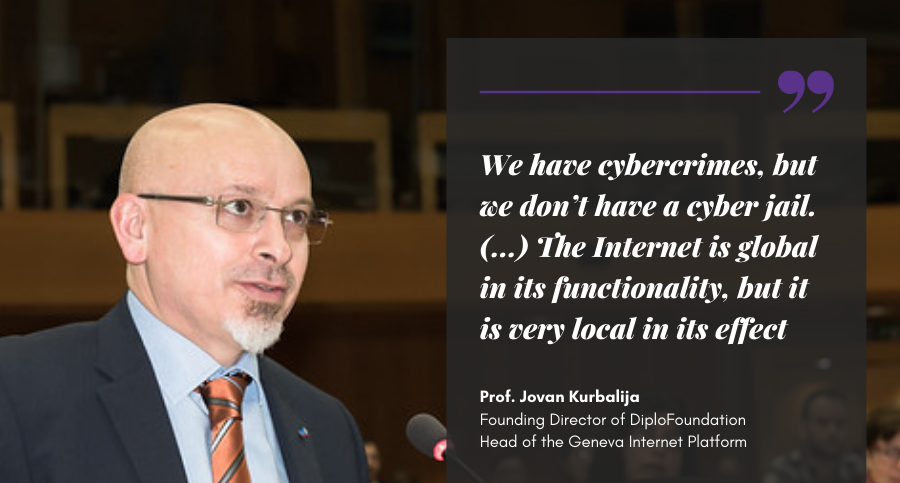 Jovan Kurbalija
Founding Director of DiploFoundation and Head of the Geneva Internet Platform
Prof. Jovan Kurbalija has been a pioneer in the field of cyber diplomacy since 1992 when he established the Unit for Information Technology and Diplomacy at the Mediterranean Academy of Diplomatic Studies in Malta.
In the period 2018-2019, he served as Co-Executive Director of the United Nations Secretary General's High Level Panel on Digital Cooperation. Previously, Prof. Kurbalija was a member of the United Nations Working Group on Internet Governance (2004-2005) and a Special Advisor to the Chairman of the UN Internet Governance Forum. Between 2013 and 2014, he was a member of the High Level Multistakeholder Committee for NETmundial.
Since 1997, Prof. Kurbalija's research and articles on cyber diplomacy have shaped research and policy discussion on the impact of the Internet on diplomacy and international relations. His book, An Introduction to Internet Governance, has been translated into nine languages and is used as a textbook for academic courses worldwide. Prof. Kurbalija lectures on e-diplomacy and Internet governance in academic and training institutions in many countries, including Austria (Diplomatic Academy of Vienna), Belgium (College of Europe), Switzerland (University of St. Gallen), Malta (University of Malta) and the United States (University of Southern California).
Kamola Ibragimova
Crime Prevention and Criminal Justice Officer, Cybercrime and Anti-Money Laundering Section, UNODC
Ms. Ibragimova is the UNODC Education for Justice (E4J) initiative's focal point on cybercrime. Previously, Kamola worked at the UNODC Regional Office for Central Asia, where she managed and implemented the Legal Advisory Programme for the Commonwealth of Independent States (CIS) Region, as well as the Global Programme for Strengthening Capacities to Prevent and Combat Organized Crime. She holds a bachelor's degree in International Law.