Counter-Terrorism and international human rights and humanitarian law 
Undeniably, terrorism is a threat to international peace and security. Even more so, as terrorism related criminal conducts are a form of crime that, in most cases, do possess transnational connotations. Adapting and adopting innovative methods, terrorist acts are continuously evolving, not only as a result of economic, political, geographical and social changes, but also due to fast technological advances. This episode discusses transnational and international offences from the unique perspectives of international human rights and humanitarian law.
Although not a new phenomenon, from 1963 - the year in which the first convention covering aviation safety and offences committed on board aircraft was adopted - the current international legal framework on countering terrorism includes 19 treaties (all in force), diverse Security Council Resolutions and the Global Counter Terrorism Strategy, amongst other instruments. Such a vast framework translates into a series of obligations on Member States, aiming at the strengthening of national criminal law and making international cooperation mechanisms to prevent and prosecute such crimes more efficient.
In Episode 6 of the Global Podcast Series, Professor Roger S. Clark, Board of Governors Professor of Rutgers University, and Dr. Arturo Laurent, discuss transnational and international offences from the unique perspectives of international human rights and humanitarian law. Even though traditionally two separate bodies under international law, human rights and humanitarian law could converge in some areas, as terrorism related offences may take place in a context of armed conflict.
Furthermore, Professor Clark shares some engaging reflections on the debate that has taken place since the inception of the International Criminal Court on whether terrorism offences ought to be included as international crimes.
To learn more about the international legal framework on countering terrorism, visit the Teaching Module Series, where you will find the latest updated information on diverse topics, including conditions conducive to the spread of terrorism, criminal justice responses, human rights, investigative techniques and on the support to be provided to witnesses and victims of acts of terrorism, amongst others.
Professor Roger S. Clark
Professor of Law / Board of Governors / Rutgers Law School
Prof. Clark is an expert on global issues that include international criminal law, international protection of human rights, nuclear disarmament, and U.S. foreign relations law. He worked for the New Zealand Justice Department and Ministry of Foreign Affairs, served on the U.N. Committee on Crime Prevention and Control, and represented Samoa and the Marshall Islands before the International Court of Justice. He has been a visiting or adjunct professor at numerous institutions, a board member of several international non-governmental organizations and serves on the editorial boards of various publications. A New Zealander by birth, he holds the title of Board of Governors Professor, Rutgers University's highest rank.
Find out more about Prof. Clark's work and publications.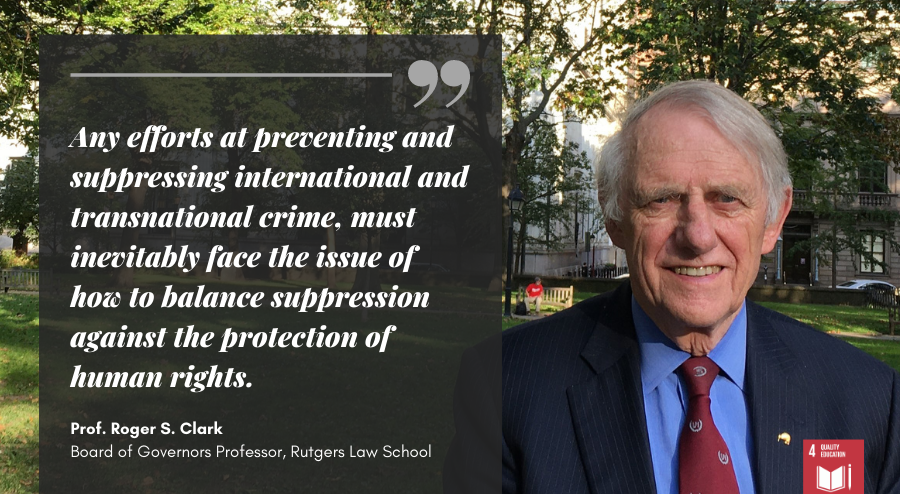 "Many legal provisions under international human rights and humanitarian law dealing with transnational offences - including terrorism - and international crimes, are converging, reinforcing each other."
Dr. Arturo Laurent
Programme Officer, Terrorism Prevention Branch, UNODC
After becoming an Attorney-at-Law, Dr. Laurent specialized in criminal law, crime prevention, criminal justice, anti-corruption and international human rights. In the UK, he was Legal Adviser to the Police Forces in England and Wales and a Magistrate for the Criminal Courts. He has been Executive-Director for Human Rights Affairs with the General Attorney's Office of Mexico City. As a diplomat, he was Legal Attaché and Minister to the Mexican Permanent Mission in Vienna. As an academic, after completing his Doctoral degree (University of Hull), he lectured at the Law School of the University of Hull. He is currently a Programme Officer for the Terrorism Prevention Branch of UNODC.