Youth and the Sustainable Development Goals: Agents of change or left behind? 
With more than 1.2 billion young people (aged 15 to 24 years) living around the world, young people are key to achieve the Sustainable Development Goals (SDGs). Countries, international organizations, civil society organizations and other stakeholders have been highlighting their crucial role in averting the worst threats and challenges our world is facing, including climate change, conflict, poverty, migration and gender inequality.
UNODC's Education for Justice initiative worked with youth from around the world - aiming to empower youth through various approaches:
by supporting educators (primary, secondary and tertiary level) to teach the next generation to better understand and address problems that can undermine the rule of law and encourage students to actively engage in their communities and future professions in this regard;
by giving them a voice and making their activities visible (e.g. through our E4J Youth Competitions);
by supporting young scholars to undertake research related to SDG 16 and the rule of law and present their findings at the international level (e.g. through the E4J-IAU Young Scholars Grants Programme and academic paper competitions);
and by ensuring that youth representatives are sitting at the table when topics that affect them are discussed, relying on their engagement to address current challenges.
This podcast episode features three youth champions from Brazil, Nigeria and Uzbekistan, sharing their views on opportunities and challenges youth are facing when promoting the SDGs, discussing the role social media and digital technology can play in promoting the SDGs and sharing their experience on why education can make a difference.
Damaris Akhigbe
Poet, podcaster and youth advocate; E4J Youth Champion

Damaris Akhigbe is a dynamic Nigerian poet, podcaster and youth advocate. She is a UNODC Education For Justice Youth Champion and one of the winners of the UNODC E4J artistic competition (2019) with her powerful spoken word poem titled 'I AM CHANGE'. She has hosted podcasts centered on youth issues and personal development. Ms Akhigbe has been a panelist at several high level conferences organized by UNODC and the Academic Council of United Nations Systems (ACUNS) held in Vienna, Switzerland and Nigeria where she passionately advocated for youth involvement in global issues.
Most recently she co-moderated the High-Level Opening and Closing sessions of the Education For Justice Dialogue Series held in December 2020.
Professionally, she is a trained optometrist and an active member of Graduate Women International, a global association of educated women who push for girl child education in their communities.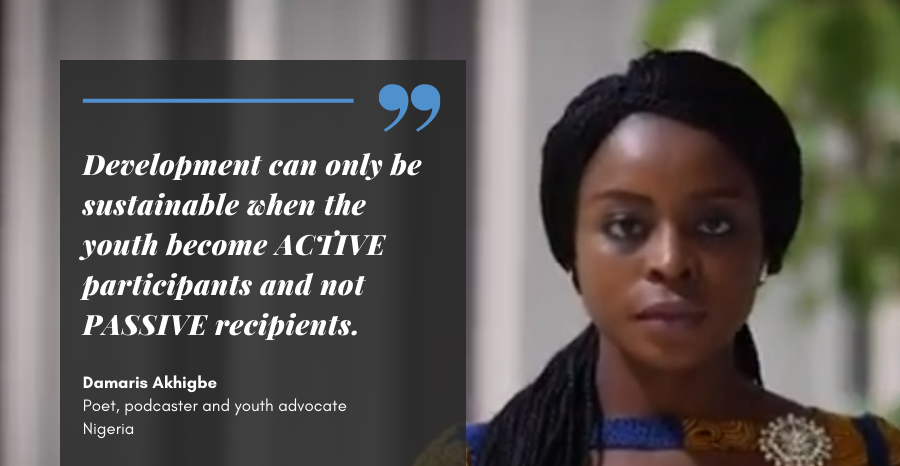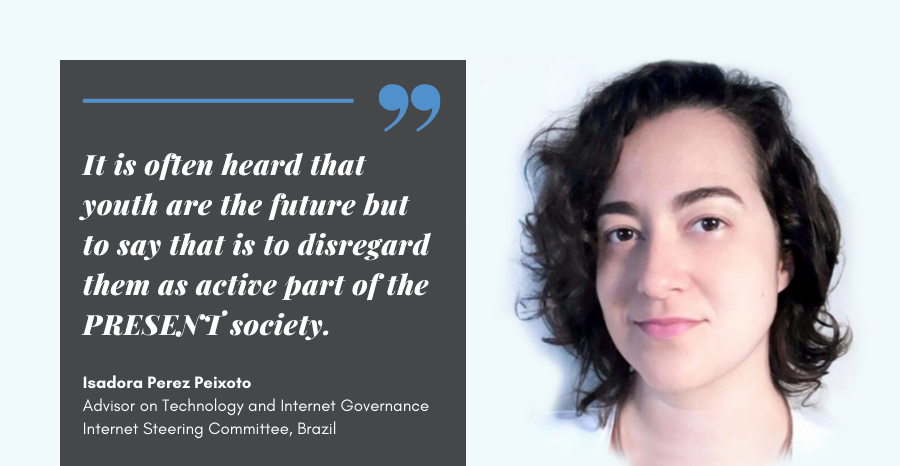 Isadora Perez Peixoto
Advisor on technology and internet governance

Isadora Perez Peixoto is a Brazilian lawyer and legal adviser currently working as the Technical Advisor on Technology and Internet Governance to the Brazilian Internet Steering Committee. Isadora has been actively involved in youth movements ever since she was 15 years old, working a path on academic, sociopolitical and advocacy spaces to engage her community through youth. Apart from other causes, Isadora is proud to be a member of the UNODC Youth Ambassadors Network, in which she was recently invited to be a consultant to this year's 5th edition, taking part as a facilitator to 25 young people on the 2030 Agenda for Sustainable Development. As an activist, Isadora is linked to SDGs 8, 16 and 17, understanding that youth is an active part of society and needs to occupy spaces in order to be heard.
Tolibjon Mustafoev
PhD candidate and research fellow, Lund University
Tolibjon Mustafoev is a PhD candidate and research fellow affiliated with Sociology of Law Department (Lund University) and has worked as a national consultant on crime prevention and promoting a culture of lawfulness among youth at United Nations Office Regional Office for Central Asia. In collaboration with UN Vienna Headquarters Tolibjon initiated and created the first youth regional academic and negotiations platform in Uzbekistan "Tashkent International Model UN" and during 2017-2019 he served as a Secretary General of this organization. He holds a BA (honors) in Commercial Law (Awarded by The University of Westminster, UK) and the LL.M. in Anticorruption Studies (Awarded by the Academy of the General Prosecutor 's Office of the Republic of Uzbekistan)
Currently, Tolibjon is working on social-legal research to investigate the affiliation of the state anticorruption legal framework with business climate in Uzbekistan.