This module is a resource for lecturers
Thinking critically through fiction
Movies seek to entertain and inform the audience about a story, incident, or person. Many good movies also hit upon important substantive themes relevant to understanding organized crime. Read the following movie summary (and watch the movie if you have not done so already) and answer the questions that follow to make the organized crime subject matter connections. Please, bear in mind that movies often simplify reality and might perpetuate stereotypes.
Blood Diamond (2006) - Edward Zwick, Director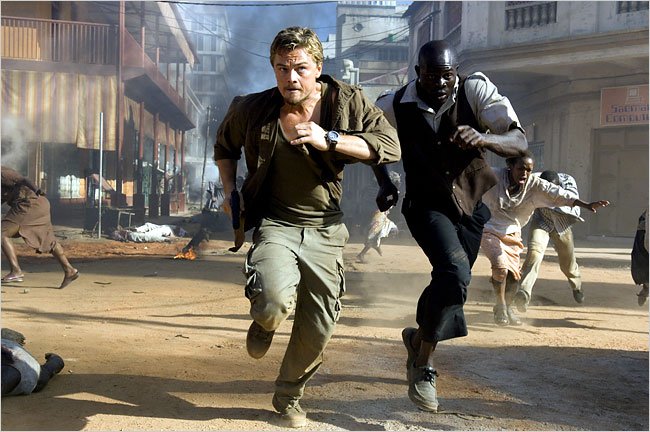 Blood Diamond opens with the capture of fisherman Solomon Vandy (Djimon Hounsou) by Revolutionary United Front (RUF) rebels in Africa. Solomon is forced to work in the diamond mines as a slave to fund the RUF war with diamonds being traded for weapons. Solomon's overseer is Captain Poison (David Harewood), who sees Solomon bury a rare 100-karat pink diamond just as they are both captured by government troops.
Danny Archer (Leonardo DiCaprio) is a white mercenary from Zimbabwe who trades guns for diamonds with the RUF. He was earlier imprisoned smuggling diamonds into Liberia and is looking for a way to repay a South African mercenary, Colonel Coetzee (Arnold Vosloo), for the diamonds he lost when captured. Coetzee works, in turn, for a South African diamond company. Archer overhears talk about the discovery of the large pink diamond by Solomon and offers to help him find his family in exchange for the diamond.
Archer meets an American journalist, Maddy Bowen (Jennifer Connelly), who is covering the war and the illegal diamond trade. He convinces Bowen to help him find Solomon's family, ultimately locating them in a massive UN refugee camp. Solomon's son is found to have been kidnapped and brainwashed by the RUF into becoming a child soldier, and Archer promises to get Solomon's son back if he can get the diamond.
Archer and Solomon pretend to be a part of Bowen's group of journalists and find themselves under attack as they locate both the diamond and Solomon's brainwashed son in the RUF-controlled camp. There is a violent struggle, and Archer kills Colonel Coetzee, and is shot himself. Archer and Solomon escape up a mountain being chased by soldiers, and Archer, suffering from his wound, makes a final call to Bowen for help in getting Solomon out of the country, selling the diamond, and reuniting him with his family.
Bowen secretly photographs the diamond's sale to the diamond company executive and publishes a magazine article exposing the trade in "conflict" or "blood" diamonds from countries experiencing civil unrest and war. The film closes with Solomon speaking to a conference on blood diamonds in Kimberly, South Africa, referring to an actual meeting in 2000 that led to the Kimberly Process Certification Scheme aimed at certifying the origin of diamonds in order to curb the illicit trade in conflict diamonds. Blood Diamond was nominated for five Academy Awards, including Best Actor (DiCaprio) and Best Supporting Actor (Hounsou).
Discussion questions
Blood Diamond shows shifting alliances among the company seeking diamonds, rebels seeking guns, mercenaries seeking money, and innocent civilians caught in the middle. Can you find elements of conspiracy, criminal association, or racketeering?
This movie highlights the power of the media in spotlighting injustices and helping to bring about change. Can you provide other examples in which media attention to criminal activity helped provoke positive changes?
Why have some countries decided to include investigative journalists in the sphere of protection for obstruction of justice?